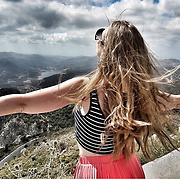 Displaying posts 1 to 10 of 23.
Mkstillo
40, Aguascalientes, Mexico

Hola espero que estés bien y con un excelente día, Leo que te gusta viajar , y que opinas de visitar México aquí tenemos una hermosa cultura y diferentes tipos de climas y excelentes Playas. Bueno espero ser tu amigo. Saludos
plushzilla
38, Brisbane, Australia

Heartbreaks don't always have to be a bad thing/experience :)
plushzilla
38, Brisbane, Australia

Прощай, и если навсегда, то навсегда прощай - what a beautiful quote, since I believe that nothing which you cannot let go of is worth holding onto.

I probably ask myself once a day what is wrong with people.

BTBESL
38, São Paulo, Brazil

I love the first two one - and their soundtrack! It is just my fav style of rock.
I will finish watching Sisters today. I started it on the last weekend but couldnt finish)
What do you think of the music?

AbrahamEGC22
22, Mexico City, Mexico

Hola! Me gustará ayudarte con tu español

"Do not pray for an easy life, pray for the strength to endure a difficult one." – Bruce Lee

Oldblood
27, Salzburg, Austria

"There are many types of monsters in this world, monsters who will not show themselves and who cause trouble. Monsters who devour dreams, and monsters who always tell lies. Lying monsters are a real nuisance. They pose as humans, even though they have no understanding of the human heart. They eat, even though they've never experienced hunger. They study even though they have no interest in academics. They seek friendship even though they do not know how to love. If I were to encounter such a monster, I would likely be eaten by it because, in truth, I am that monster."
***
так, пoистине, человек - это грязный поток. Человек есть нечто, что до́лжно превзойти, a кто сражается с чудовищами, тому следует остерегаться, чтобы самому при этом не стать чудовищем.