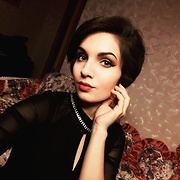 Margo_Dagr
Margarita, 22 y.o.

Speaks
Looking for
Friends
Language practice
Meeting in person
Education
Bachelor's degree
Moscow State University, Faculty of Medicine
Occupation
Youth Chamber (Social worker), scientific researcher

Joined 1 year ago, profile updated 3 years ago.

Displaying posts 1 to 10 of 13.

Igor105
59, Moscow, Russia

В МГУ появился медфак. Как же я там давно работал. Рядом с каким корпусом новое здание построили? Физфак знаю, химфак знаю, ГЗ знаю, 1 и 2 Гуманитарный знаю.

artisticspider
33, Los Angeles, United States

I figured I'd take a chance at writing on your wall since I know what it's like to have a bunch of unread messages stacking up in an inbox that I can't keep up with. I just wanted to say that I am highly appreciative of not only your charity work and willingness to help children, but the fact you're a bassist and into art is absolutely fantastic! I'm always trying to meet other musicians and artists. The fact you have Wardruna, Dimmu Borgir, and Equilibrium posters doesn't hurt, either 😂 Would love to find out more of your musical tastes!

Wow,I love Russian woman.

Hello! I bookmarked your profile, if you don't mind. :)

...also in my spare time I build rockets for NASA, and when I'm bored of that I like to perform operations removing brain tumors from patients.
snowpanda_241
23, Belgrade, Serbia

Thank you for doing charitable work :) You are making this world a better place for many! ^^