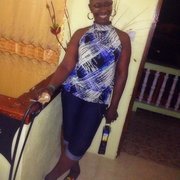 Jay6
Fran, 70 y.o.


Joined 7 years ago, profile updated 21 days ago.

Displaying posts 1 to 10 of 92.

cynthmards
66, Toronto, Canada

Hi Fran, I am a Christian and my ancestry was in Goa, west of The Indian subcontinent. It's a happy place-sea, sun, happy people, good food and lively music.The Portuguese colonized Goa & gave us Christianity, their culture, their music, their food, language. I only went there for a short holiday but my dad's relatives were very loving & tried to match make me off to 2 fellows but I said NO!We lived in Kenya, Nairobi for a number of years & the weather & game parks were superb but the politics was bad -1968 the time we came to Canada! Canada is a great country- mountains, gardens, lakes, fields of corn,wheat, grapes, wineries, fishing industry and more. We studied there in universities,got good jobs and my sis married, had 2 adult childre, the son was a doc, & his new wife was one too! Together they fight COVID and they are Brave but we pray for them daily! I've been around the world when I was younger but now I'm a young retiree! Bye for now! Post me if interested in my travels , the book I wrote etc.Marion from Canada.

snozzles
70, Bisée, Saint Lucia

Lovely to find someone who has about same interest as I have
Enjoy the rest of your day

Bigrig379x
60, Lawton, United States

Fran,Thanks for stopping in.. I must say you look amazing ..I would say that you have taken the time to enjoy a happy and healthy blessed life.. I wish you and your family wellness & happiness.💘

KennethRoger
74, George Town, Malaysia

https://www.youtube.com/watch?v=L1l1KUuTNlk
Do-Re-Mi - Julie Andrews
You are living in a beautiful Island.
1kooldude
69, Tampa, United States

Hello from Tampa. Like your profile

Nice profile! Have a great day :)